The Grass Roots
Golf Croquet Cup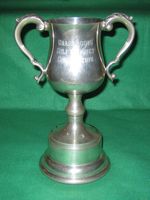 Click for enlargement

Golf Croquet

This year the club will be resurrecting a trial Grass Roots Golf Croquet competition. This is a national level play competition with qualifying competitions in clubs which is open to beginners without a handicap and higher handicappers with a Golf Croquet handicap of 8 and above. We last participated in this national competition back in 2016, after which we dropped it because of lack of interest.
To simulate the conditions of the national competition the trial will take place as a 1-day "qualifying" tournament held on two dates, Friday 7th and Sunday 9th July, and those interested can play in one of these on their preferred date. The winners from each day will then NOT proceed to the national final but instead will compete in a small local play-off tournament held here on Sunday 24th September, the same date as the national final.
There will be no entry fee, but the conditions of entry are:
GC Handicap 8 or above on 18th June, or a beginner with no GC handicap.
Available to play several games in a 1-day "qualifying" tournament here on either Friday 7 or Sunday 9 July.
Available to play in the small finals tournament here on Sunday 24th September, if you are one of the winners of one of the qualifying tournaments. The number of winners from each qualifying tournaments proceeding to the finals will depend on the numbers of entrants.
The national competition has been won by a Watford player three times in past years - John Walker in 2005, Nick Archer in 2007, and Frances Skinner in 2009.
All games will be 13-hoop games of Level Play.
Title:
GC Grass Roots competition
Handicaps:
: 8+, or a beginner with no GC handicap
Dates:
Friday 7 & Sunday 9 July (10:00 start) (choose one)
Number of places:
32 (max 16 on each date)
Manager:
Jason Carley (Friday 7/7), Simon Hathrell (Sunday 9/7)
Entries:
Allocation: 28 June. Closing: 5 July.
Those who wish to enter online may do so via the club website Members Area or inform Simon Hathrell.
Note: the "allocation date" determines the date of entry eligibility and how places are allocated if over capacity. Entries will be accepted until the closing date or capacity is reached, whichever is sooner.
Entry fee:
Nil
Format:
AMD (depends on numbers)
Lunches:
Please bring your own

GC Grass Roots Tournament
by year: