The GC Level Play Trophy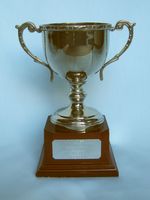 Click for enlargement

Golf Croquet
Matches will be played as 13 hoop games of level play. The winners of each block will progress to the semi-finals. Block games will be single games, while the semi-final and final will be played as the best of three games.
All block games should be played by 27th August.
The winner of each block will be decided first by the number of games won, then by the net points difference in all games played, followed by the number of wins against those tied.
The SF and Final to be played as the best of 3 games.
All results must be entered on your Golf Croquet handicap card.
GC Level Play Tournament
by year: