The Singles Championship
Trophy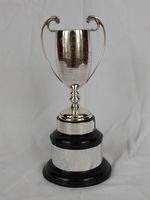 Click for enlargement

Association Croquet
All contests will be 26pt games played level to Advanced rules, preferably untimed, otherwise to a time limit agreed between the players (minimum 2.5 hours; 3.5 hours if no agreement).
All games block games should be played by 17th September.
Players are responsible for contacting their opponents to arrange games.
Players must enter results on their handicap cards as usual.
Level Advanced Tournament
by year:


See also: Past winners