Association Croquet
This Tournament is an Association Croquet singles competition at held Watford and open to members of the national Croquet Association. It is also listed in the CA fixtures calendar.
Open Midweek AC Advanced
Tournament results by year:


Title:
Watford Midweek Open AC Advanced Tournament
Handicaps:
: 8-
Date:
Wednesday 17 - Thursday 18 May
Number of places:
16
Secretary:
: Simon Hathrell click on link to send an email
: 01923 241582
Address: please ask, or log in and obtain it from the CA member's directory
Manager:
Simon Hathrell
RoT:
Simon Hathrell
Trophies:

'A' block: the Cassiobury Cup (current holder: Sam Murray)
'B' block: the Cassiobury Salver (current holder: Alan Clark)
Entries:
Allocation: 19 March. Closing: 10 May.
Those who wish to enter and pay online may do so through the CA website in same way as entering a CA Tournament.
Alternatively, postal entries should be submitted together with entry fee using the standard CA Tournament entry form.
Entry fee:
£24 (CA Premium members), others £36.
Pay online (see above) or by cheque to the secretary, payable to "Watford (Cassiobury) Croquet Club".
Format:
AMD, provisionally Class Singles with two independent blocks.
Lunches:
A cold lunch will be provided for £5 per day.
Notes:

Play starts at 09:30 each day.
Drinks and biscuits are provided free of charge, and a cold lunch will be available for a small fee.
Details of parking and other arrangements will be sent to participants before the event.
Click on images to enlarge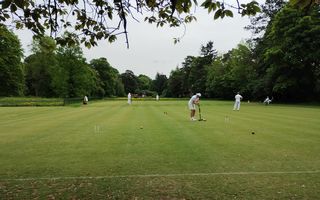 As a consequence of a late cancellation there was an odd number of players, so it was decided to split the entry into two blocks, with a lower handicap group of 9 playing in the 'A' block in a Flexible Swiss format and a higher handicap group of 6 playing 5 rounds in a standard all-play-all 'B' block.
In the 'A' block Sam Murray and Nigel Polhill - both previous winners of this tournament, and both playing off a -1½ handicap - each won their first game quite quickly, and then faced each other in the second round, with Nigel emerging the winner. Meanwhile the other -1½ handicapper in the tournament, David Marsh, faced Mike Hedge. Mike turned out to be on top form, beating first David followed by Bryan Harral and then Sam Murray to end the first day's play undefeated and a net gain of 49 handicap index points. The only other undefeated player was Nigel, so next day Mike and Nigel met in the first game of the day in what was effectively the deciding match, which Nigel managed to win fairly comfortably. Meanwhile Sam Murray was busy adding to his tally of triple peels, completing one on the first day and then a tpo followed by a tp on the second day to finish the competition with three of them.
In the 'B' block, which was played with 3-hour time-limits per game, Gary Bennett used his many years of experience to stem the tide of a recent rather poor run of results, and ended the first day as the only player with 3/3. Of the others, only the defending 'B' block champion Alan Clark had scored 2/3 with the other four players all on 1/3. On the second day Geoff Johnson emerged as the player on form, scoring convincing +22 wins against both Gary and then John Noble; but Gary managed to win his last game on time against Richard Peperell to retain his overall lead with a final 4/5. Geoff finished second on 3/5, and the other four all on 2/5. Perhaps the most notable event was at the end of the very last game to finish, when in his final turn after the time-limit had been called, Arthur Reed tried to finish by pegging both his balls out with a cut rush from about 8 yards, and succeeded in rushing his partner into the peg for a 'grievous' and thus ended up a point short, winning on time instead!
Report by Simon Hathrell
Results:
Block A
Results vs.:
NP
MH
SM
SH
DM
BH
AM
HB
ID
SCORE
W-L
%
WIN
QLTY
NET
HOOPS
NET
INDEX
POINTS
Nigel Polhill
+17
+17
+3
+3
+6
5-0
100%
2.27
+46
+20
Mike Hedge
-17
+5
+8
+21
+13
4-1
80%
1.47
+30
+55
Sam Murray
-17
-5
+25tp
+17tp
+12tpo
+26
4-2
67%
1.40
+58
-6
Simon Hathrell
-25tp
+17
+11
2-1
40%
0.60
+3
+8
David Marsh
-8
-17tp
-17
+18
+3
2-3
40%
0.60
-21
-37
Bryan Harral
-3
-21
-12tpo
+1T
+11
2-3
40%
0.40
-24
-8
Alex McIntyre
-3
-18
-1T
+16
+20
2-3
40%
0.20
+14
-1
Heather Bennett
-26
-11
-3
-16
+11
1-4
20%
0.00
-45
+1
Ian Draper
-6
-13
-11
-20
-11
0-5
0%
0.00
-61
-32
Block B
Results vs.:
GB
GJ
JN
AR
RP
AC
SCORE
W-L
%
WIN
QLTY
NET
HOOPS
NET
INDEX
POINTS
Gary Bennett
-22
+3T
+9
+4T
+9
4-1
80%
1.60
+3
+24
Geoff Johnson
+22
+22
+8T
-14
-15
3-2
60%
1.60
+23
+10
John Noble
-3T
-22
+14
+12
-6
2-3
40%
0.80
-5
-4
Arthur Reed
-9
-8T
-14
+10
+14T
2-3
40%
0.80
-7
-4
Richard Peperell
-4T
+14
-12
-10
+23
2-3
40%
1.00
+11
-16
Alan Clark
-9
+15
+6
-14T
-23
2-3
40%
1.00
-25
-10
WINNERS
Nigel Polhill,
Gary Bennett
Participants

| Name | Club | H'cap |
| --- | --- | --- |
| Sam Murray | Norwich | -1½ |
| Nigel Polhill | Hurlingham | -1½ |
| David Marsh | Wrest Park | -1½ |
| Simon Hathrell | Watford | -1 |
| Bryan Harral | Wrest Park | -½ |
| Alex McIntyre | Nottingham | 0 |
| Mike Hedge | Nottingham | ½ |
| Ian Draper | Nottingham | 1½ |
| Heather Bennett | St. Albans | 2 |
| Richard Peperell | High Wycombe | 2½ |
| Gary Bennett | Watford | 2½ |
| Alan Clark | High Wycombe | 3 |
| Geoff Johnson | Watford | 3 |
| John Noble | Letchworth | 3½ |
| Arthur Reed | Watford | 3½ |