The AC High Handicap
Championship Cup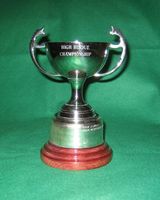 Click for enlargement

Association Croquet
Minimum handicap: 10.
Format tba, subject to entry.
Both players are responsible for scheduling their game with their opponent.
Results of the matches will be updated here from time to time. They are also shown on the notice-board in the club hut. Players must enter results on their handicap cards as well.
Please note that 14-point handicap games count for ±10 points on the card, the same as for 26-point handicap games.
High Handicap Tournament
by year: