The GC Level Play Trophy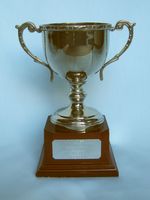 Click for enlargement

Golf Croquet
Games will be played as 13 hoop games of level play.
Format: tba
All games should be played by the end of September.
Players are responsible for contacting their opponents to arrange games.
Results of the games will be updated here from time to time.
Players must enter results on their handicap cards as usual.
GC Level Play Tournament
by year: