Golf Croquet

The Club runs a qualifying tournament for the Golf Croquet All England Handicap competition. The four semi-finalists qualify for the Area Finals to be held in August at Letchworth. Winners at the Area Finals proceed to the National Finals, to be played on 24-25 September at Dowlish Wake. There are no restrictions on handicap for the qualifying tournament, but there is a maximum handicap of 10 allowed at the finals.

Games will be played as single 13 hoop games to handicap difference using current handicap on the day the game is played.

Results of the games will be updated here from time to time. They are also shown on the notice-board in the club hut.

All results must be entered on your Golf Croquet handicap card.


GC All England Handicap
by year:

Area Finals: Nick Archer, Steve Dennis, Anne Dennis, Geoff Johnson
Prelim. round
ROUND 1
by 22 May
QUARTER-FINALS
by 19 June
SEMI-FINALS
by 17 July
FINAL
by 7 August
WINNER
John Bee
John Bee
(7-4)
Terry Naylor-Vane
(7-6)
Terry Naylor-Vane
(7-4)
Steve Dennis
(7-3)
Wendy Spencer-Smith
Bob Croft
Terry Naylor-Vane
(7-6)
Terry Naylor-Vane
Geoff Johnson
Geoff Johnson
(7-5)
Geoff Johnson
(7-5)
Ian Parkinson
Angela Naylor-Vane
Angela Naylor-Vane
(7-4)
Phyllida Johnson
Nick Archer
Nick Archer
(7-3)
John Smallbone
(7-4)
Steve Dennis
(w/o)
Anne Dennis
John Smallbone
John Smallbone
(7-6)
Robert Archer
Maureen Croft
Steve Dennis
(7-3)
Steve Dennis
(7-5)
Steve Dennis
Ron Drew
Linda Spurr
(7-2)
Hilary Isham
Linda Spurr
(7-6)
Linda Spurr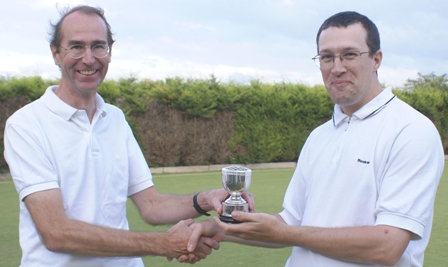 Nick Archer (right) receiving his trophy from
Dulwich CC President Simon Whiteley (Photo: Ray Hall)
Nick Archer, Steve Dennis and Anne Dennis all proceeded from the Area Finals at Letchworth through to the National Finals at Dulwich, where Nick and Steve both made it through the block stages and eventually met each other in the final. Nick was the winner of a hard-fought contest between them to become the All England GC Handicap Champion, making Steve the runner up.

A terrific result - congratulations to all!