Golf Croquet
EACF EAST & WEST AREA
Fixtures contact: Roger Nicholls

This Level Play League within the EACF Region is contested in two areas, with Watford as the East & West Area winner in 2015 but only 6th in in 2016. The 2016 Area and overall winner was Northampton.
Handicaps shown below are the new GC handicaps.
| | |
| --- | --- |
| League tables by year: | Watford match results by year: |
All games: Level Play
Date
Opponents
Venue
Results (Watford names & scores first)Final place: Winner
Thu 1 Jun
Chelmsford
Home

WON 12-6

[hoops: 109 - 95]

(Net index points: -38)




Nick Archer (-2) &
John Smallbone (2)
lost to
John Skuse (4) &
Tony Frewin (4)
4-7
Simon Hathrell (1) &
Arthur Reed (3)
beat
Robert Jones (5) &
Karen Jones (6)
7-2
Nick Archer (-2)
beat
John Skuse (4)
7-6
Simon Hathrell (1)
beat
Tony Frewin (4)
7-5
John Smallbone (2)
lost to
Robert Jones (5)
4-7
Arthur Reed (3)
beat
Karen Jones (6)
7-6
John Smallbone (2)
beat
Karen Jones (6)
7-5
Arthur Reed (3)
beat
Robert Jones (5)
7-3
Nick Archer (-2)
beat
Tony Frewin (4)
7-4
Simon Hathrell (1)
lost to
John Skuse (4)
4-7
Nick Archer (-2)
beat
Robert Jones (5)
7-6
Simon Hathrell (1)
beat
Karen Jones (6)
7-6
John Smallbone (2)
lost to
John Skuse (4)
4-7
Arthur Reed (3)
lost to
Tony Frewin (4)
4-7
John Smallbone (2)
lost to
Tony Frewin (4)
5-7
Arthur Reed (3)
beat
John Skuse (4)
7-2
Nick Archer (-2)
beat
Karen Jones (6)
7-4
Simon Hathrell (1)
beat
Robert Jones (5)
7-4

Thu 6 Jul
Letchworth
Home

WON 10-8

[hoops: 103 - 101]

(Net index points: -1)




Nick Archer (-2) &
John Bee (4)
beat
John Noble (-1) &
Ian Mantle (4)
7-6
Geoff Johnson (1) &
Simon Hathrell (1)
lost to
John Skingsley (2) &
Peter Ross (2)
5-7
Nick Archer (-2)
lost to
John Noble (-1)
4-7
Geoff Johnson (1)
beat
John Skingsley (2)
7-6
Simon Hathrell (1)
beat
Peter Ross (2)
7-4
John Bee (4)
lost to
Ian Mantle (4)
6-7
Simon Hathrell (1)
beat
Ian Mantle (4)
7-4
John Bee (4)
lost to
Peter Ross (2)
4-7
Nick Archer (-2)
lost to
John Skingsley (2)
6-7
Geoff Johnson (1)
lost to
John Noble (-1)
2-7
Nick Archer (-2)
beat
Peter Ross (2)
7-5
Geoff Johnson (1)
beat
Ian Mantle (4)
7-2
Simon Hathrell (1)
beat
John Noble (-1)
7-4
John Bee (4)
lost to
John Skingsley (2)
6-7
Simon Hathrell (1)
beat
John Skingsley (2)
7-5
John Bee (4)
lost to
John Noble (-1)
0-7
Nick Archer (-2)
beat
Ian Mantle (4)
7-4
Geoff Johnson (1)
beat
Peter Ross (2)
7-5

Mon 14 Aug
Enfield
Away

LOST 8-10

[hoops: 94 - 109]

(Net index points: -46)




Simon Hathrell (1) &
Arthur Reed (3)
beat
David Frost (0) &
Peter Brock (5)
7-6
Steve Dennis (1) &
John Smallbone (3)
beat
Ken Pickett (0) &
Brian Dawes (4)
7-4
Simon Hathrell (1)
lost to
David Frost (0)
5-7
Steve Dennis (1)
beat
Ken Pickett (0)
7-4
Arthur Reed (3)
beat
Brian Dawes (4)
7-4
John Smallbone (3)
beat
Peter Brock (5)
7-5
John Smallbone (3)
beat
Brian Dawes (4)
7-4
Arthur Reed (3)
lost to
Peter Brock (5)
5-7
Steve Dennis (1)
lost to
David Frost (0)
5-7
Simon Hathrell (1)
beat
Ken Pickett (0)
7-6
Arthur Reed (3)
lost to
David Frost (0)
5-7
John Smallbone (3)
lost to
Ken Pickett (0)
4-7
Simon Hathrell (1)
lost to
Brian Dawes (4)
5-7
Steve Dennis (1)
beat
Peter Brock (5)
7-6
Steve Dennis (1)
lost to
Brian Dawes (4)
3-7
Simon Hathrell (1)
lost to
Peter Brock (5)
1-7
John Smallbone (3)
lost to
David Frost (0)
3-7
Arthur Reed (3)
lost to
Ken Pickett (0)
2-7


Handicap change: Brian Dawes 4 to 3
Fri 18 Aug
Leighton Linslade
Away

WON 14-4

[hoops: 112 - 87]

(Net index points: +21)




Nick Archer (-2) &
John Walker (2)
lost to
John Cundell (3) &
John Thorp (3)
6-7
Simon Hathrell (1) &
Steve Dennis (1)
beat
David Ball (3) &
Roger Stroud (4)
7-5
Nick Archer (-2)
beat
John Cundell (3)
7-0
Simon Hathrell (1)
beat
John Thorp (3)
7-6
Steve Dennis (1)
beat
David Ball (3)
7-3
John Walker (2)
beat
Roger Stroud (4)
7-4
John Walker (2)
lost to
David Ball (3)
3-7
Steve Dennis (1)
beat
Roger Stroud (4)
7-5
Simon Hathrell (1)
beat
John Cundell (3)
7-3
Nick Archer (-2)
beat
John Thorp (3)
7-4
Steve Dennis (1)
beat
John Cundell (3)
7-5
John Walker (2)
lost to
John Thorp (3)
4-7
Nick Archer (-2)
beat
David Ball (3)
7-5
Simon Hathrell (1)
beat
Roger Stroud (4)
7-6
Simon Hathrell (1)
beat
David Ball (3)
7-6
Nick Archer (-2)
beat
Roger Stroud (4)
7-2
John Walker (2)
lost to
John Cundell (3)
1-7
Steve Dennis (1)
beat
John Thorp (3)
7-5

Tue 22 Aug
Northampton
Home

WON 10-8

[hoops: 100 - 90]

(Net index points: +67)




Geoff Johnson (1) &
Arthur Reed (3)
lost to
Lionel Tibble (-3) &
Marilyn Robinson (6)
3-7
Simon Hathrell (1) &
Steve Dennis (1)
lost to
Les Heard (0) &
Mike Hills (0)
2-7
Geoff Johnson (1)
lost to
Lionel Tibble (-3)
5-7
Simon Hathrell (1)
beat
Les Heard (0)
7-3
Steve Dennis (1)
lost to
Mike Hills (0)
5-7
Arthur Reed (3)
beat
Marilyn Robinson (6)
7-0
Steve Dennis (1)
beat
Marilyn Robinson (6)
7-2
Arthur Reed (3)
lost to
Mike Hills (0)
3-7
Geoff Johnson (1)
beat
Les Heard (0)
7-6
Simon Hathrell (1)
beat
Lionel Tibble (-3)
7-4
Geoff Johnson (1)
beat
Mike Hills (0)
7-4
Simon Hathrell (1)
beat
Marilyn Robinson (6)
7-3
Steve Dennis (1)
lost to
Lionel Tibble (-3)
4-7
Arthur Reed (3)
lost to
Les Heard (0)
5-7
Steve Dennis (1)
beat
Les Heard (0)
7-3
Arthur Reed (3)
lost to
Lionel Tibble (-3)
3-7
Geoff Johnson (1)
beat
Marilyn Robinson (6)
7-5
Simon Hathrell (1)
beat
Mike Hills (0)
7-4

Statistics (Watford players)

Name
Singles
W-L
Doubles
W-L
Total
W-L
Simon Hathrell
16-4
3-2
19-6
Nick Archer
10-2
1-2
11-4
Steve Dennis
8-4
2-1
10-5
Geoff Johnson
6-2
0-2
6-4
Arthur Reed
5-7
2-1
7-8
John Smallbone
3-5
1-1
4-6
John Walker
1-3
0-1
1-4
John Bee
0-4
1-0
1-4
Totals
49-31
5-5
54-36

Final Area position: Winner


Matches start at 10.00 am unless otherwise indicated.

See also:
EACF League Championship final

(Final between North & Central and East & West area winners)
All games: Level Play
Date
Opponents
Venue
Results (Watford names & scores first)Final place: Winner
Sat 14 Oct
Final
Colchester
Ipswich

WON 12-2

[hoops: 92 - 68]

(Net index points: +65)




Nick Archer (-3) &
Simon Hathrell (1)
beat
Dick Strover (-2) &
Chris Sheen (-2)
7-6
Geoff Johnson (1) &
John Smallbone (3)
beat
Marian Manning (4) &
Michael Manning (5)
7-6
Nick Archer (-3)
beat
Dick Strover (-2)
7-5
Simon Hathrell (1)
beat
Chris Sheen (-2)
7-1
Geoff Johnson (1)
beat
Marian Manning (4)
7-3
John Smallbone (3)
beat
Michael Manning (5)
7-5
Geoff Johnson (1)
beat
Michael Manning (5)
7-5
John Smallbone (3)
beat
Marian Manning (4)
7-5
Nick Archer (-3)
lost to
Chris Sheen (-2)
6-7
Simon Hathrell (1)
beat
Dick Strover (-2)
7-4
Nick Archer (-3)
beat
Marian Manning (4)
7-6
Simon Hathrell (1)
beat
Michael Manning (5)
7-3
Geoff Johnson (1)
beat
Dick Strover (-2)
7-5
John Smallbone (3)
lost to
Chris Sheen (-2)
2-7


Handicap change: Simon Hathrell 1 to 0

Statistics (Watford players)

Name
Singles
W-L
Doubles
W-L
Total
W-L
Simon Hathrell
3-0
1-0
4-0
Geoff Johnson
3-0
1-0
4-0
Nick Archer
2-1
1-0
3-1
John Smallbone
2-1
1-0
3-1
Totals
10-2
2-0
12-2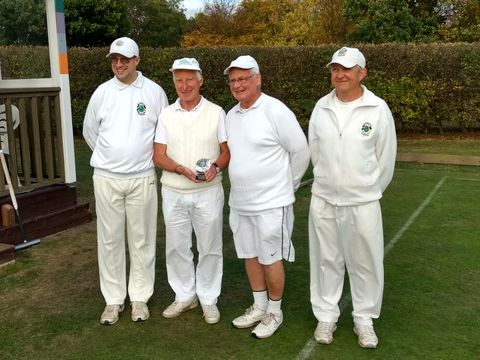 The 2017 EACF Level Play league final winners L-R:
Nick Archer, Geoff Johnson, John Smallbone, Simon Hathrell
with the GC Level Play league trophy
Click on image for an enlargement