The Grass Roots
Golf Croquet Cup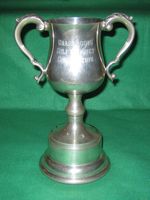 Click for enlargement

Golf Croquet

The Club runs a preliminary tournament for the Grass Roots Golf Croquet Competition which is open to beginners without a handicap and higher handicappers with a Golf Croquet handicap of 9 and over.
This year Watford is hosting Area Finals on Sunday 2nd August, and winners proceed to the National Final to be held at Ashby on 12th September.
This national competition has been won by a Watford player three times in recent years - John Walker in 2005, Nick Archer in 2007, and Frances Skinner in 2009.
Matches are played as 13-hoop games, Level Play.
All games to be completed by 1st July.
All results must be entered on your Golf Croquet handicap card.

GC Grass Roots Tournament
by year: